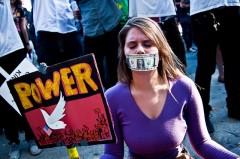 Inequality
Glenn Halog (CC BY-NC 2.0)
We live in a time when hard fought gains in fundamental human rights – gains that until recently seemed irreversible – are facing new and powerful threats. In the face of resurgent xenophobic nationalism and anti-egalitarianism in various parts of the world, this year's International Women's Day (IWD) on March 8 holds a significance greater than any in recent memory.

Having helped spearhead efforts to bring human rights to bear in tax policy, CESR is bringing a fiscal focus to IWD 2017 by energetically supporting the Global Days of Action on Tax Justice for Women's Rights, a campaign initiative by the Global Alliance for Tax Justice (GATJ) and partners including CESR, the Association for Women's Rights in Development (AWID), Christian Aid, Action Aid, Oxfam, Tax Justice Network and the Global Unions. From March 8 to March 24, civil society will mobilize in dozens of countries around the world to challenge the women's rights abuses inherent to unjust systems of taxation.

Women pay severely as a result of regressive tax and budget policies implemented around the world in this age of fiscal austerity, whether it is through lesser access to reproductive rights services, increased care burdens resulting from reduced social protection, or domestic violence which underfunded programs fail to prevent. Meanwhile, tax haven countries continue to impede governments from raising sufficient revenue to advance and protect women's rights.

CESR is also co-organizing a series of events on this theme on the sidelines of this year's UN Commission on the Status of Women (CSW). On March 15, CESR will be joining AWID and GATJ for a side event hosted by the government of Ecuador on Women's Economic Empowerment Through Tax Justice. The next day, on March 16 CESR's Kate Donald will speak at a special Tax Justice for Women's Rights Forum co-convened by CESR and its partners in the women's rights, tax justice and development fields to challenge the explicit and implicit biases against women embedded in tax policies, and to demonstrate the urgency of moving to more just tax alternatives which fulfil women's human rights. Later that same day, CESR is co-organizing a strategy session with AWID and the Gender and Development Network on challenging orthodox macroeconomic policy to promote gender equality and women's rights.

Human rights advocates face many threats this International Women's Day, but among the most insidiously pervasive are the human rights deprivations and disparities that result from increasingly regressive taxation and deep cuts to public services. So let's make IWD 2017 the call to show up and stand up for women's human rights in tax policy. Join the Global Days of Action on #TaxJustice for Women's Rights!
Key dates during the Global Days of Action
8 - 24 March
The #TaxJustice for Women's Rights campaign launches on International Women's Day, 8 March 2017. There will be national actions in countries around the world, including: rallies, marches, speaker tours, feminist forums, research releases, lobbying, tax caravans, street shows, tweetathons, online debates, and media meetings.

13 - 24 March
UN Commission on the Status of Women, New York. 2017 priority theme: "Women's economic empowerment in the changing world of work". 

15 March
The Government of Ecuador is hosting an invitation-only official side event for government delegates - "Women's economic empowerment through tax justice" - on Wednesday 15 March, at the United Nations Commission on the Status of Women, New York, in collaboration with CESR and the Global Alliance for Tax Justice.

16 March in New York
NGO CSW Women's Rights Rally from 1.00pm to 3.00pm.

#TaxJustice for Women's Rights' forum, 6.15pm to 7.45pm, Hardin Room, Church Center of the United Nations, New York. This UNCSW parallel event is jointly hosted by the Global Alliance for Tax Justice, Global Unions, Association for Women's Rights in Development, Center for Economic and Social Rights, Oxfam, ActionAid, Tax Justice Network, Christian Aid, and the National Taxpayers Association Kenya.


22 March
World Water Day, 22 March. Stand in solidarity with Public Services International members. Tell our governments to ensure the Human Right to Water is realized through universal access to public water services that boost women's health and economic independence.
---
Take action!

1. Promote the Global Days of Action on #TaxJustice for Women's Rights! 
Tell your networks, colleagues and friends. On social media you can:

    Share on Twitter:  https://twitter.com/GA4TJ/status/829757160435363840
    Share on Facebook https://www.facebook.com/globaltaxjustice/

2. Join with others.

Contact women's rights, trade union, tax justice, budget advocacy groups, public service workers including teachers, and nurses in your country - to understand the issues and plan joint work together. 

You can use this conversation starter on tax justice for women's rights. 

Want more in-depth detail on the issues? Listen to the 2015 webinar, presentations & resources page from CESR, GATJ, AWID and the Center for Women's Global Leadership.

3. Demand action from decision makers. Send an advocacy letter and ask to meet with your national government, UN representatives, or your government representatives who are attending the annual UN Commission on Status of Women in New York. Explain why we need tax justice to ensure gender justice and why tax justice is needed to deliver on the UNCSW theme of "Women's economic empowerment in the changing world of work."
 See suggested advocacy messages here.

4. Send a press release to national journalists to let them know why you're taking action. If you sign it together with other organisations it makes it even stronger. Or, hold a briefing or training with journalists on tax and gender justice; organize a journalists' trip to meet women and girls affected by the issues; send a letter to the editor; or write an opinion editorial. 
Find a press release template here.

5. Write a blog and publish it. GATJ is looking to show the different ways women around the world are negatively impacted by scandalous tax dodging and unfair tax policies.

6.  Join the conversation online. Post on Twitter and Facebook, share the infographics. Remember to use the hashtags such as  #TaxJustice / #IWD / #womensrights / #UNCSW


7. Get creative! Hold creative public actions, photo stunts, flash mobs, public talks, film screenings, photo exhibitions, information leafleting. Ensure that activities for International Women's Day or International Women's Strike include strong tax justice messages.


8. Let the campaign know what you're doing! GATJ will promote your activities and suggest connections to build impact. Please fill out this SUBMIT EVENT form found at bottom of the GATJ website Calendar page. 


9. Please send your photos, videos, and social media links to marie@globaltaxjustice.org or bridget.burrows@actionaid.org.
Related: