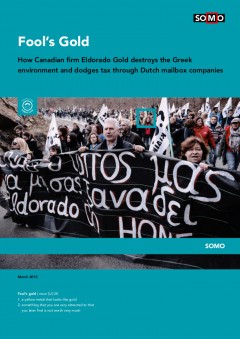 Cover
How Canadian mining company Eldorado Gold destroys the Greek environment and dodges tax through Dutch mailbox companies
This is an excerpt from summary of "Fool's Gold"
The Canadian Company Eldorado has recently bought up every advanced-stage gold project in Greece. It has started building a large, open-pit gold and copper mine at Skourries, in the north-eastern region of  Haldiki. These mining operations require the cleaning of a large swath of ancient forest and extensive groundwater pumping. The developments are also threatening to pollute air, water and soil with a poisonous mixture of heavy metals and other pollutants. Unsurprisingly, there is a massive resistance to the mining operations from the local communities in the region. This ranges from lodging complaints to large demonstrations, which have been heavily criminalized by the Greek state and have been met with police brutality.
Eldorado Gold and Skourries have become symbols of protection of public goods in the midst of the biggest economic crisis the country has seen since the Second World War. The investment was promoted by the previous government  as a way out of the economic crisis, arguing that generated tax revenues would restore Greece's budget and jobs created would reduce the country's soaring unemployment figures. However, Eldorado uses a complex web of Dutch and Barbados mailbox companies to avoid paying taxes in Greece and the Netherlands, a tax planning structure that is enabled by EU and Dutch legislation. Together with other tax planning opportunities at the company's disposal, this aggressive form of tax planning could wipe out future profits in Greece.
The legal presence of Eldorado Gold in the Netherlands raises questions about the ultimate fiscal and economic contribution that a company with such an intricate tax planning structure will have in a crisis-ridden country such as Greece. This report addresses civil and human rights violations and potential environmental impacts resulting from Eldorado Gold's operations. Second to assess the company's purported economic contribution to Greece, the report looks into the various forms of state support the company receives. Third, it analyses Eldorado Gold's aggressive tax planning structure and its impact on Greek state revenues, as well as critically assessing the role of Dutch and EU fiscal policies that facilate corporate tax avoidance. Fourth, looking beyond this individual company case, foreign direct investment (FDI) data is analyzed to identify the biggest tax leaks for the Greek economy. Finally, the report discusses Greece's tax regime from a public interest perspective, including Troika imposed fiscal consolidation measures.
The assessment of the purported contribution of Eldorado's operations to public finances raises questions about whether this pursuit of foreign investment really does result in sustainable economic development in terms of cost to the economy, environment and democracy, but also welter it actually benefits the country  financially.