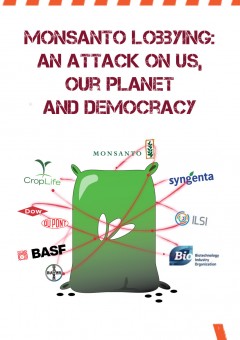 Cover
An attack on us, our planet, and democracy
Corporations like Monsanto have vast resources to buy political power through lobbying. Not only are they represented by numerous lobbying associations at every level from local to global, they also have an army of hired-gun lobbyists, fund scientists to act as their mouthpiece, and participate in 'greenwashing' projects.
EU institutions and the US government often actively solicit corporations to lobby them, giving corporations privileged access to decision-making. This perverse symbiosis allows corporations to capture decision-making, but leads to hollowed out democracy, environmental disaster, and grave social injustice.
There are roughly three fields of industry lobbying: directly targeting decision-makers; PR and propaganda; and undermining science. Broadly three types of actors exist: those giving the orders, those following them, and those who are accomplices to these attempts.