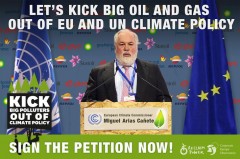 Image
The signing of COP21 was heralded by political and business leaders as a historic turning point. Yet at the EU and UN level it appears to be business as usual: non-binding targets, fossil fuels and failed market mechanisms. That's because both processes have actively brought the fossil fuel industry into climate policy making – the very same companies responsible for climate change. With Big Polluters so close to policy makers, it's no wonder climate policy is being shaped in the interest of corporate climate criminals rather than people and the environment.
Sign the petition here and tell world leaders to kick the fossil fuel industry out of climate policy
The EU' Climate Commissioner, Miguel Arias Cañete - the man heralded with bringing countries together to sign of the Paris Agreement - used to be the President of two oil companies while a parliamentarian in Spain, and his extended family still own the majority of both. His record as Commissioner has seen his close relationship to Big Oil and Gas continue, despite the Paris agreement. Research from CEO revealed he has had five times as many meetings since COP21 with fossil fuel interests than with those representing the renewable or energy efficiency sectors. And in that time he has also championed expanding the role of gas (fracked and conventional), as well as stating that coal can continue to be part of our energy mix with the experimental and ludicrously expensive carbon capture and storage. If the EU and world leaders were serious about tackling climate change, more than 80% of fossil fuels need to be kept in the ground – something French President Francois Hollande even gave as a criteria for success months before the Paris Agreement was signed. This means no new fossil fuel infrastructure projects and the shutting down of existing ones, which is not something the EU is doing.
Luckily, kicking polluting industry out of policy making is nothing new – it happened with tobacco, when the UN's World Health Organisation (WHO) was negotiating an international tobacco control treaty. World leaders realised that it was impossible to act in the public interest so long as tobacco lobbyists were involved, so decided to create a fire wall between industry and public health officials to protect policy making. Officially called 'Article 5.3' within the United Nations Framework Convention on Tobacco Control (UNFCTC), it didn't just keep the tobacco away industry away from the UN level, but also all national or regional governments who signed the treaty.
We no longer allow the tobacco industry be involved in public health policy because of the clear conflict of interest, so why should Big Oil and Gas and other fossil fuel companies be allowed anywhere near climate policy? CEO has been campaigning for this at climate summits since COP19 in Warsaw, and last year teamed up with Corporate Accountability International to call on the UNFCCC to Kick Big Polluters Out of Climate Policy. More than 570,000 people joined the call, with many countries supporting it – but unfortunately not the European Union.
In the run up to COP22 in Marrakesh, CEO is teaming up with Corporate Accountability International again to call on governments to Kick Big Polluter Out of Climate Policy via a public petition. It is part of a month of action against the dirty energy industry called Reclaim Power, bringing people demands of the people into the UN.
Join the call on the EU, the USA and all other blockers:
"I stand with the governments calling for an end to big polluter conflicts of interest at the United Nations Framework Convention on Climate Change (UNFCCC). In order for the UNFCCC to create strong climate policy that protects people and the planet from climate catastrophe, we need to remove big polluters from the policymaking table.
I am calling on you to stand up to the fossil fuel industry and stand with the government leaders calling for a conflict of interest policy at the UNFCCC."
The petition will be handed in during the talks. Add your name and tell political leaders like Climate Commissioner Cañete that its time to end their affair with polluters.