Launch Spotlight Report Sustainability in Europe
Who is paying the Bill ? (Negative) impacts of EU policies and practices in the World
Image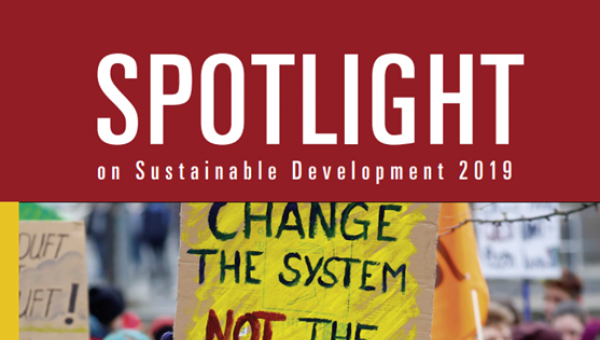 Spotlight 2019
CHURCH CENTER - 10TH FLOOR, NEW YORK
The 2030 Agenda for Sustainable Development adopted unanimously at the United Nations in September 2015 is highly ambitious. If taken seriously it has the potential to change the prevailing development paradigm by re-emphasizing the multidimensional and interrelated nature of sustainable development and its universal applicability. Consequently, it should also form the basis for all policies of the European Union.
The 2030 Agenda is universal, not just because the SDGs are global in scope, but also because all countries have to do something to achieve them. No country can deem itself to be sustainably developed and having already done its part to meet the SDGs. The 2030 Agenda offers the opportunity to challenge the idea that development is a phenomenon that occurs only in countries of the Global South while the North is already 'developed'. This is especially true for the European Union.
But four years after the adoption of the 2030 Agenda the world is off-track to achieve the SDGs. Most governments have failed to turn the transformational vision of the 2030 Agenda into real transformational policies. Even worse, xenophobia and authoritarianism are on the rise in a growing number of countries.
In January of 2019 the European Commission presented a "Reflection Paper" on how to deal with the 2030 Agenda. The paper, however, limits itself to outlining options for the Commission and the European Parliament to come after the European elections in May 2019. The EU is still lacking a comprehensive strategy on the implementation of the 2030 Agenda and its ambitious commitments to action.
On average, the EU has one of the world's worst environmental footprint per capita, with our unsustainable lifestyles based on resource and labour exploitation in other parts of the world. The economy of the future needs to take into account the environmental and social impact beyond our borders rather than living in the illusion of a low-carbon, resource efficient Europe that exports resource-intensive production to other parts of the world. Policy coherence for sustainable development requires to fully take into account the externalities and spill-over effects of European policies, production and consumption patterns.
Taking policy coherence into account means also a monitoring of the spill-over effects and set goals to limit them. Eurostat is not including externalities in their reporting, as indicators are (still) not existing.
This report shows in some important policy areas where there is an urgent need for action, because the external effects of European policies are not sufficiently taken into account.
With:
Mr. Jens Martens – Global Policy Forum
Ms. Lonne Poissonier – CONCORD Europe
Ms Thao Hoang Phuong - ActionAid Vietnam,
Mr. Roberto Bissio – Social Watch
Mr. Gabor Figeczky- IFOAM
Repr of EC (tbc)
Moderated by Ms. Leida Rijnhout – SDG Watch Europe