News
The Pandemic Pivot - A Report from the Institute for Policy Studies, The Transnational Institute, and Focus on the Global South
Experts from the frontlines of global policy tackle the implications of COVID-19
Image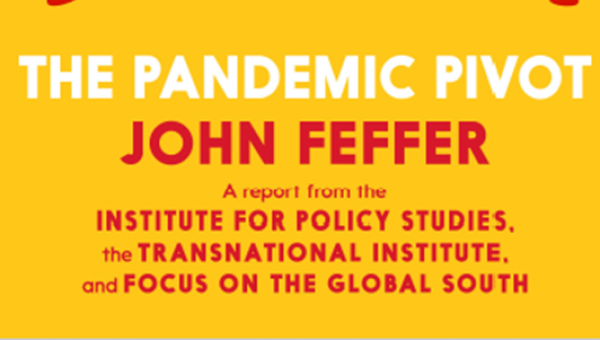 Cover_pandemic_pivot
Transformative change can come out of the COVID-19 crisis, which has exposed everything that's wrong with decades of the world's governments betting on militarism, competition and wealth creation. A return to sanity and humane governance is still possible. We need a pandemic pivot.
Both a sobering analysis of the present moment and a hopeful cry on behalf of the power inherent in a global, people-oriented response to the pandemic and the societal breakdown that led to it, The Pandemic Pivot offers insight and an actionable framework for what Cindy Wiesner calls "a just transition to a regenerative, anti-racist, feminist economy." As The Pandemic Pivot demonstrates, equity and cooperation aren't just nice principles, they're survival strategies.
In June and July of 2020, the Institute for Policy Studies invited 68 of the world's leading thinkers and activists to participate in eight in-depth discussions (among them Global Policy Forums's director Jens Martens). Their task: to assess the implications of COVID-19 for key global issues as well as the potential for transformative change coming out of this crisis. They discussed a Green recovery, the global economy, coronavirus authoritarianism, migrants and refugees, budget priorities, the global ceasefire, international civil society, and multilateral cooperation. This report by John Feffer from the frontlines of global policy stands in stark contrast to the reality in the world today. Reading it amounts to a return to sanity and humane governance, and illuminates the way forward that is still possible if we begin soon.
"If there is any positive feature to the terrible plague that has struck, it is that it has stimulated reflection on the deeper malaise of the prevailing social order and its ideological underpinnings. The varied and thoughtful voices gathered here provide much insight on what must be done to confront still worse threats that are imminent and to construct a better world." —Noam Chomsky