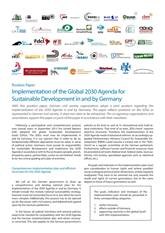 First page
Following a participative and comprehensive process over several years, in September 2015 the United Nations (UN) adopted the global Sustainable Development Goals (SDGs). The SDGs must now be implemented in and by Germany. It is our opinion that in order to do so, fundamentally different approaches must be taken in areas of political action. Germany must accept its responsibility for sustainable development and implement the 2030 Agenda in accordance with its five principles (people, planet, prosperity, peace, partnership). "Leave no one behind" needs to be the central guiding principle of activities.
 
With this position paper, German civil society organisations adopt a joint position regarding the implementation of the 2030 Agenda in and by Germany. The paper reflects positions on the SDGs as represented in German civil society. It does not claim to be exhaustive. The co-signatory organisations and associations support the paper or parts of the paper in accordance with their mandates.
Published by: Forum on Environment and Development, Global Policy Forum a. o.
Berlin/ Bonn, March 2016